What is Chassi?
Chassi automatically captures the interactions between users and objects within an ERP to help you understand a business' real-time, as-is processes, monitor changes and improvements as they happen, and get alerted when something is heading off course.
What is Process Mining?
Process Mining is a manual, analytical way to discover, monitor, and optimize business processes based on past information. Process Mining scrapes limited data from logs and then requires proficient users to visualize those business processes.
Key benefits of Chassi over PM
No extensive training needed or lagging, incomplete data here.
See what's most important
Chassi doesn't overwhelm you with data from any and every process. We instantly show a holistic view of core operational processes while also letting you see detailed user interactions.
Time-to-value in days
It doesn't take months or a dedicated, trained team to get value out of Chassi. The intuitive design and real-time visibility mean that anyone can start getting process improvement insights as soon as they log in.
No incomplete logs
We don't deal with data logs. We stream raw data from your ERP to our cloud application, so we can translate it in whatever way helps you most and create a complete view of what's going on.
Features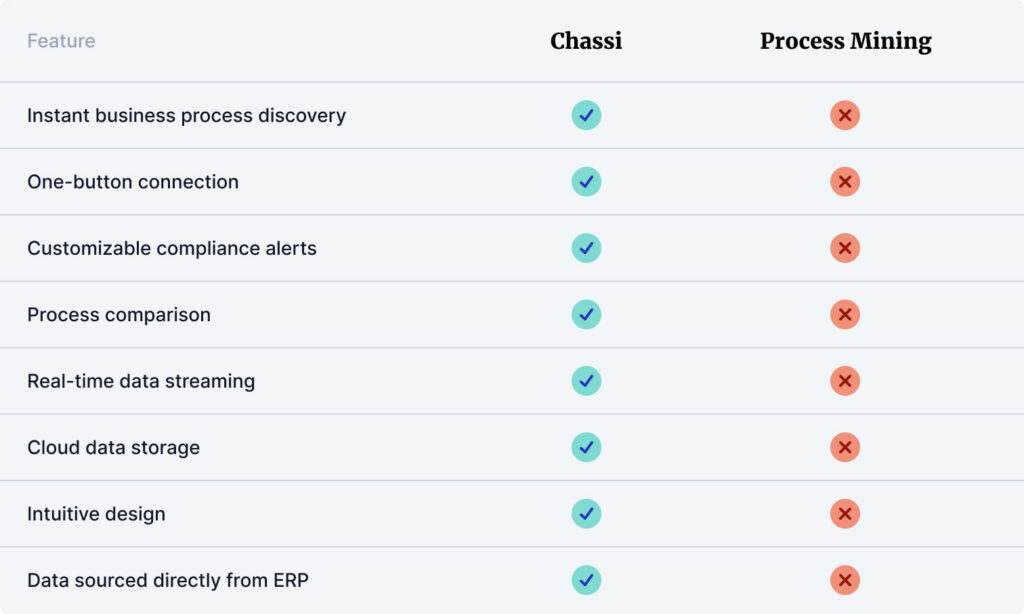 Drive profitability. Enhance client experiences.
NetSuite Alliance Partners, NetSuite Solutions Providers, and finance advisory consultants use Chassi to provide more value for their customers and stand out against their competition.