What is Chassi?
Chassi captures the interactions between users and objects within an ERP to help you understand a business' as-is processes, monitor changes and improvements over time, and get alerted when something is heading off course.
What is Business Intelligence?
Business Intelligence is data that software and services turn into actionable insights so business leaders can make better, strategic decisions for their company. BI tools transform this data into dashboards, reports, and visualizations about certain areas of business.
Key benefits of Chassi vs BI
You can't make forward-looking decisions based on rearview data.
See data that's never been captured
We're not exaggerating here. You have never seen data of how a team interacts with the ERP before because no tool has captured it before. But that's where the key to improving processes and unlocking efficiency and profitability in the business lies.
Automatic and objective
BI tools require a proficient user to create visualizations manually, and they're subject to user error and bias. Chassi extracts, models, and provisions raw data from your ERP automatically and objectively.
Get alerted if something isn't working
Yes, Chassi illustrates and visualizes processes and workflows. But you can also easily create custom alerts and goals to start managing by exception, so you know exactly where to focus and if you're moving in the right direction.
Features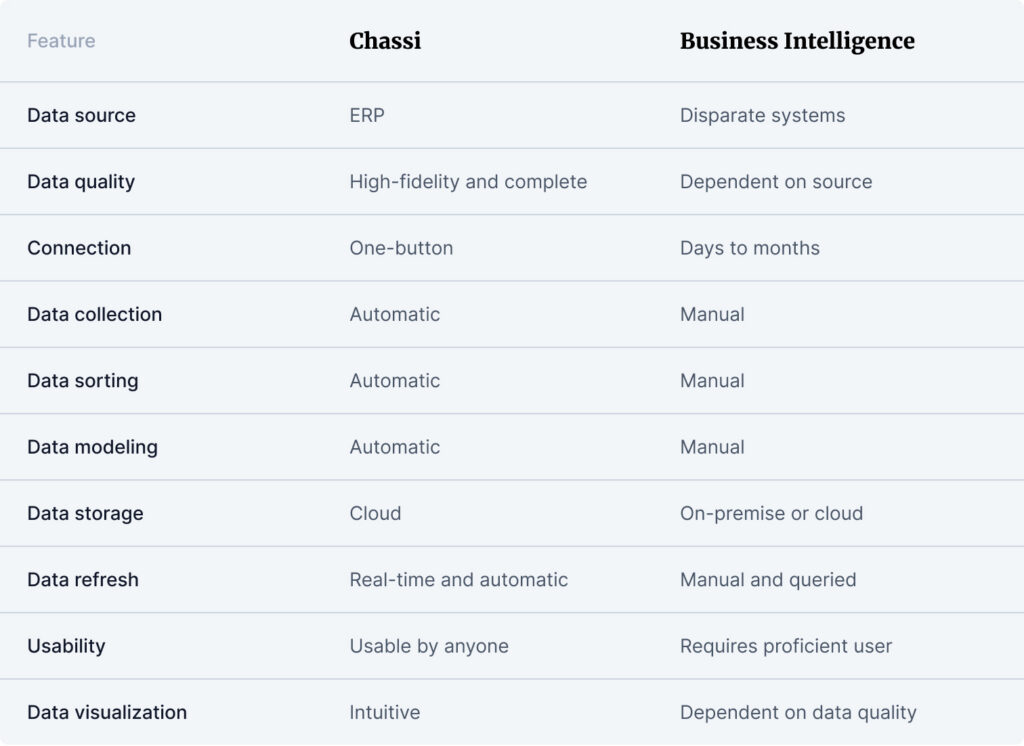 Drive profitability. Enhance client experiences.
NetSuite Alliance Partners, NetSuite Solutions Providers, and finance advisory consultants use Chassi to provide more value for their customers and stand out against their competition.