Now, with our latest release, you can access valuable insights for your client in under 15 minutes. 
Especially given the current environment, rapid time to value and maximizing resources matters more than ever for NetSuite consultants. 
So with this release, you can understand your client's business without getting on a call, see what additional NetSuite modules would have the most significant impact, and get to meaningful analysis minutes after you install Chassi. 
Here's how we're increasing the ease of analysis so you can deliver valuable insights to more clients even faster:
Instant Context with Process Tracker:
Now, you can generate insights and hypotheses for your clients within 15 minutes of installing Chassi with Process Tracker.
This feature automatically pulls in every record used in NetSuite and intuitively maps the relationships so you can quickly assess the state of the business, understand how your client uses the system, and see where additional NetSuite modules or improvements could help. 
Whether you're ramping up account management or intaking a net-new client, you can start developing data-backed observations about the records used most frequently, get clues to what happens outside the system, and identify some low-hanging fruit to start improving.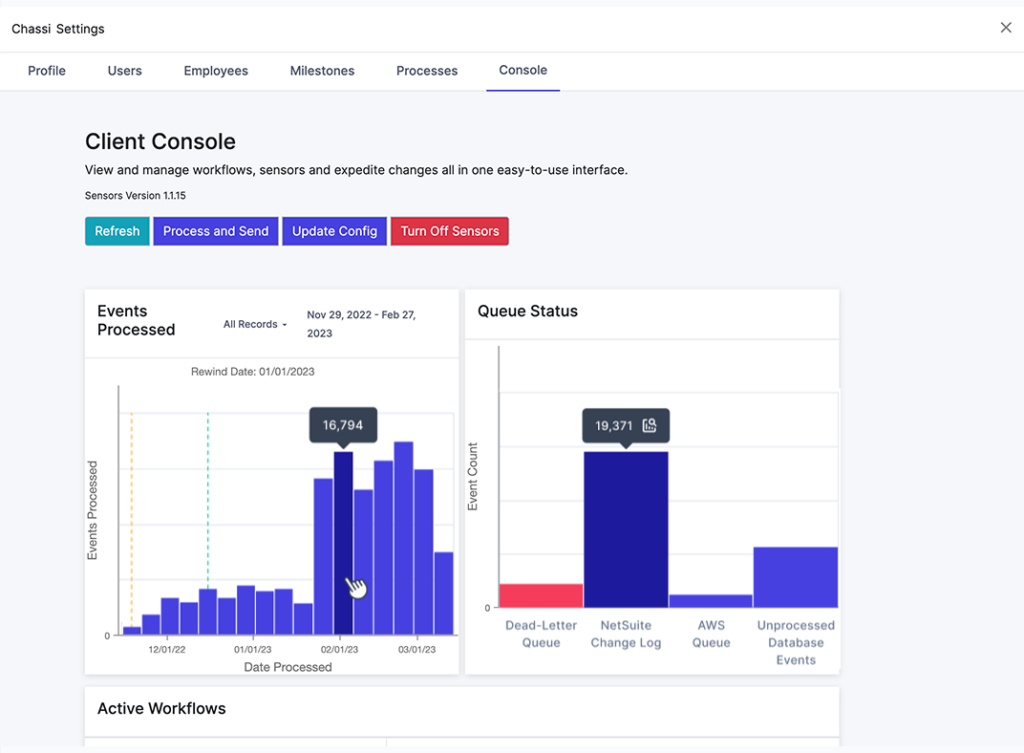 Proactive Diagnosis with Client Console:
You can also confidently control when the Chassi app sends changes back to NetSuite and streams the new data with the new Client Console. This feature removes friction from managing data processing and conducting self-service installs too.
So now, when you configure a client's instance, you can verify which scripts ran successfully, spend less time investigating any script errors, see the volume of events streaming in, or turn Chassi's sensors on or off. And you never even have to leave the Chassi app.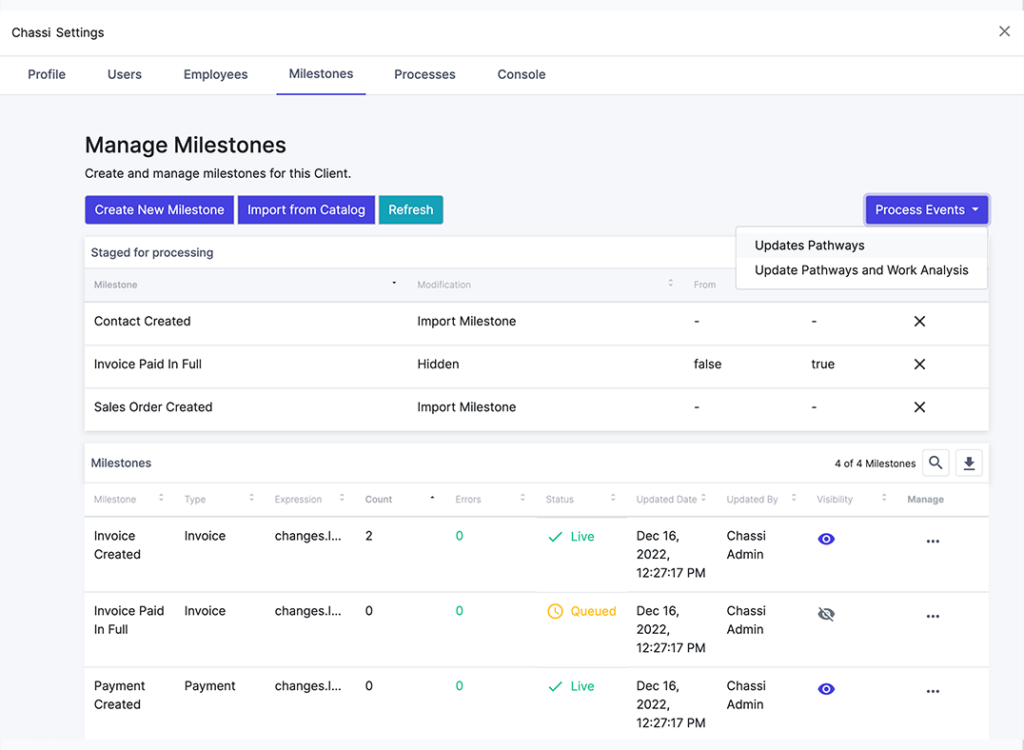 Increased Milestone Management: 
We've added several features to ensure you spend less time configuring a client instance or waiting for data to process and more time creating hypotheses. 
Use the newly expanded Milestone Catalog to batch import milestones, define which parts of the app you want to reprocess in minutes, and quickly create Pathways with little business context. 
And we know experimenting with different configurations is a crucial part of analysis, so we added the ability to Hide and Show Milestones without reprocessing all events. This means you can explore your client's processes while focusing only on the most meaningful data.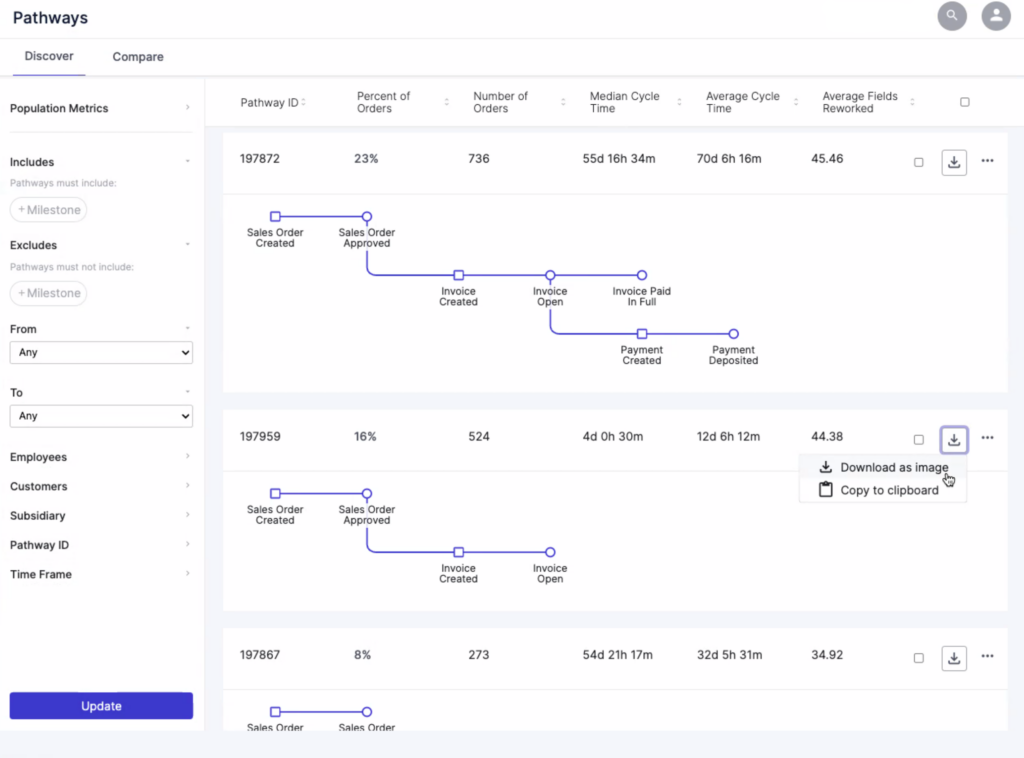 Visualization Enhancements:
Thanks to user feedback, we've updated several parts of the app so you can easily analyze related data. 
The first is our new Pathway visuals, where you'll see process steps clearly sequenced chronologically and new differentiation between created records and status changes. These updates are especially helpful with larger Pathways, and as always, they are drawn automatically in the app.
Plus, you can download these Pathway visuals to include in presentations for clients, prospects, or peers. 
You can also view every detail about a specific Cycle Time Analysis in our new CTA blade, including a scatter plot and histogram of the cycle times and exceptions. And you can dive into individual Pathways right from At a Glance now too.
Provide value with more ease:
Now more than ever, your clients expect valuable insights fast with minimal lift on their part. 
And you deserve less friction in your life, not more. 
So we created these new features to help you focus more on what you do best: Creating meaningful solutions for your clients.  
Ready to see Chassi for yourself? Schedule a demo today.